SPS Admissions Counselors
The UIW School of Professional Studies Admissions team is here to help you achieve your educational goals. Our admissions counselors can assist you with starting your application for a bachelor's or master's degree, transferring your college credits and any questions you have about SPS programs. Please feel free to reach out via email, text or schedule a virtual appointment.
---
Meet the Team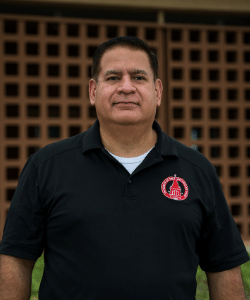 Alfred Van Raub Jr.
Military Admissions Counselor
Phone: (210) 283-6365
Email: vanraub@uiwtx.edu
Alfred was born and raised in San Antonio, Texas and retired from the U.S. Navy after 22 years of honorable service in the military Intelligence field. In his spare time, he enjoys reading, playing chess, home improvement projects and spending time with his family. He attended the University of the Incarnate Word (UIW) School of Professional Studies (SPS) and completed his Bachelor of Science in Business Administration (BSBA) degree in Aug 2016 and graduated with a Master of Business Administration (MBA) with a specialization in Human Resource Management degree in Dec 2017.
For me, at UIW, the WORD is Goals! Set your goals for your desired results - new study habits, networking, balancing work or volunteering this year. Envision yourself in the future then plan and commit yourself to Achieve! Your goals will represent the commitments you take to achieve more in different areas of life. I am always updating my goals to keep them relevant to the direction I want my life and career to take. Having supportive UIW staff and faculty, we are here to help you achieve your goals, so if you have a question or need help, do not hesitate to ask!
---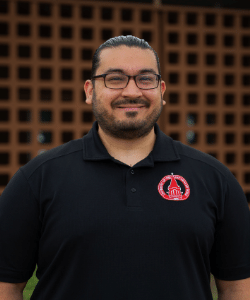 Nick Alvarado
Admissions Counselor
Phone: (210) 283-6864
Email: nalvarad@uiwtx.edu
Nick was born and raised in San Antonio, Texas and graduated from McCollum High School in 2010. After obtaining an Associate's degree at Palo Alto College, Nick obtained a scholarship to attend the University of Northern Iowa, where he completed his Bachelor's degree in Communication Arts. Nick became a Cardinal in 2019 in more ways than one, as he is not only an admissions counselor for the School of Professional Studies, but also a Graduate student working towards his Master of Arts in Administration degree.
For me, at UIW, the WORD is Progress! UIW School of Professional Studies prides itself on being at the forefront of online education, while always looking for ways to improve upon the model to best serve a diverse student population. With convenient in-person class formats and 100% online degree programs, UIW SPS strives to serve students locally and across the globe, thus empowering them with the knowledge and credentials to help them achieve their goals.
---
Teresa Villegas
Admissions Counselor
Phone: (210) 832-2101
Email: tevilleg@uiwtx.edu
Teresa was born and raised in San Antonio, Texas. She is currently completing her Master of Business Administration in Human Resource Management degree at UIW. She earned a Master of Human Resource Management from Argosy University and a Bachelor of Business Administration in Marketing from UIW. Her background is in education and finance. She has eight years of experience working in education and two years working abroad at an International school in Shenzhen, China. She worked as a licensed personal banker prior to entering the field of education. She enjoys spending time with family and friends and giving back to the senior community. Her son Ryan is her greatest blessing in life. She hopes to teach at the university level, and is planning to start a Doctoral in Business Administration after completing her MBA.
For me, at UIW, the WORD is Discover. As students we seek to discover who we are and who we want to be. What an education can provide us and what we provide others with our education. How we will respond to challenges and how challenges can define us. Why faith, truth, and service are core values and how they impact us as individuals and the communities around us. As an adult leaner, it is refreshing to see that we are not alone in our academic endeavors. We discover that there are many resources available and people to guide us along the way. Let us answer your questions and help you get started on your next academic journey. Our UIW family awaits you!
---
Valeria Lopez
Admissions Counselor
Phone: (210) 832-2165
Email: valopez5@uiwtx.edu
I am a Laredo transplant to San Antonio, Texas. I have a bachelors degree in English and enjoy spending time with my children, cooking and dancing. I am currently a Cardinal student working on a Masters degree!
For me, at UIW, the WORD is Believe! We work with many students who have sacrificed their education for some time to advance in their careers due to hardship or general life events. They return to school because they believe in and understand the value of a degree. These brave individuals are determined to achieve their education goals and come to us for support. Being able to help our students get started or finish their higher-ed journey is so gratifying. I strongly believe that with UIW's strong sense of community, our students can progress and will always feel they are a part of our Cardinal family!