SPS Bachelor's, Master's and MBA Programs Recognized by Abound College
January 28, 2020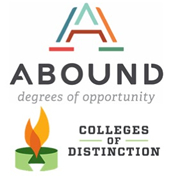 The University of the Incarnate Word (UIW) has been recognized for its MBA program, it's grad school programs, and its effort to help students finish college by the website Abound College. Austin-based Abound is a national college guidance system for degree-seeking adults. Its goal is to help students find the best place to earn an undergraduate degree, graduate degree, nursing degree or MBA.
"It is an honor to be recognized by Abound in three separate categories: MBA, Grad School and Finish College" says Dr. Cyndi Porter, vice president for UIW Enrollment Services. "It's really a credit to our faculty and staff who go out of their way to bridge the gap between those adults who started their college education, but just have not completed their goal. And, also, for those who aspire to continue their post-graduate education in one of our many programs and have set new goals to accomplish. It's critical that they know they will find a supportive home here at UIW and this recognition from Abound further establishes that fact."
Abound's top programs meet several criteria in each of four main areas: Accessibility, Affordability, Acceleration, and Advancement. Each school is evaluated through a key analysis of transfer-credit assessment data, career and support services, overall accessibility of campus resources, the breadth of engaged learning opportunities, and more. UIW, as with all institutions on the Abound website, was invited to join the cohort only after an exhaustive interview with the Abound team as well as a rigorous review of student satisfaction and success.
"Unlike annual statistical rankings of colleges and universities, Abound does not limit our vetting process to surface-level numbers and enrollment data. We hand-pick the schools that offer a truly valuable experience," says Tyson Schritter, chief operating officer for Abound. "Our 20 years of work with Colleges of Distinction have given us the keen ability to identify the hallmarks of an effective education. It's inspiring to see how UIW goes the extra mile to provide the life-changing experience that every student deserves."
Schritter stresses the importance of academic advising, attentive faculty, and flexible scheduling in programs that serve such a variable population of adults.
View UIW's Abound College Finish College webpage
View UIW's Abound College Grad School webpage
View UIW's Abound College MBA School webpage
Learn more at: Abound.college