UIW Corpus Christi Center Partners with Coastal Compass
August 17, 2017

Coastal Compass Education and Career Resource Center at La Palmera Mall is welcoming University of the Incarnate Word as their newest partner in a ceremony on Wednesday, August 2, at 10:30 a.m. at Coastal Compass, La Palmera Mall.
As a Coastal Compass partner, a UIW advisor will be available on a regular basis. Both undergraduate and graduate degrees are offered in a non-traditional format. The undergraduate program encourages students to attend two courses every 8-week term. This pace allows students to earn 36 credits per year, accelerating their time to graduation.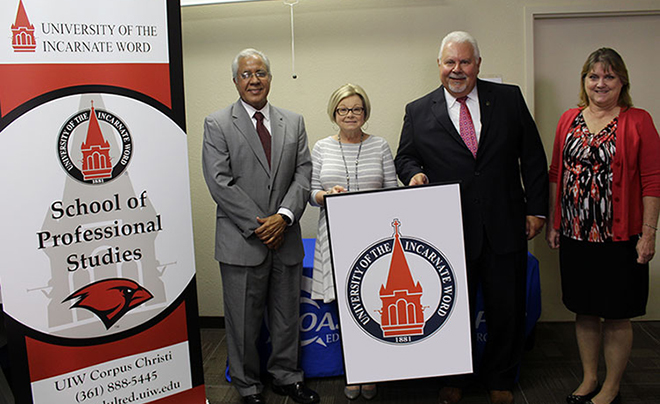 Pictured above from left: Dr. Arturo Alemdarez, Coastal Compass Vice-Chair, Coeta Montgomery, Corpus Christi Director of Operations, Vincent Porter, Dean, School of Professional Studies and Priscilla Johnson, Academic Advisor.
Classes are also available 100% online for students who need extra flexibility in their class schedule. Professional development opportunities for adults needing continuing education and/or who want to earn a certificate to reach their career goals are also available.
Citizens for Educational Excellence, a 501(c)(3) local education organization, established Coastal Compass in partnership with Corpus Christi ISD, Corpus Christi Literacy Council, Craft Training Center, Del Mar College, Education to Employment Partners, Education Service Center Region 2, Saint Leo University, Texas A&M University-Corpus Christi, Texas A&M University-Kingsville, and Workforce Solutions of the Coastal Bend.