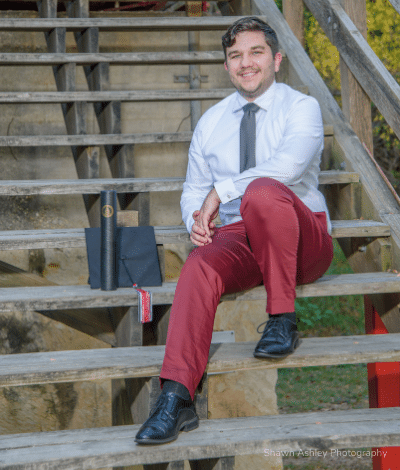 Justin Clark
Education
2020, B.S. in Business Administration with a concentration in Marketing from the UIW School of Professional Studies
Q and A
Tell us about your background.
I graduated from East Central High School in 2009. Right out of high school, I attended college. Unfortunately, I dropped out to pursue my career. I returned to college at UIW's School of Professional Studies (SPS) because I was encouraged to do so by my partner, friends, and my boss at the time. I attended online classes while working full-time. I am currently the Partnership Development Manager at the San Antonio Business Journal, and I know that this degree will help me to further grow in my career.
Why did you choose your major?
I've always been interested in marketing, so it seemed like a no-brainer when I learned that I could keep working and finish my degree in a field that I found interesting. The choices offered by UIW in the SPS program are so numerous that I almost chose another degree path, but ultimately decided that marketing would yield the best results in my current career path.
Tell us about some of the things you liked about SPS.
I liked that I could largely set my own schedule. During the busiest seasons of my job, I was able to organize my schedule accordingly and even take a semester off if needed. I also tend to get a little bored in school, but because of the expedited nature of the SPS program, this wasn't the case with this program.
How did you juggle life and school at the same time?
During a particularly stressful time, I was able to take an 8-week break when it suited my personal life. Then, I was able to pick up where I left off. This was so helpful! It also helped that most of the staff and faculty was very understanding when setting their requirements for their classes. They realize that their students have vast responsibilities outside of the classroom and accommodate that while still maintaining high academic standards.

What advice would you give prospective and SPS students?
Don't give up! Ask for help when you need it! From the help desk, to professors, to your advisors—everyone at UIW wants you to succeed; if you need them, let them know!
What are some of your hobbies and interests?
We have three dogs, so we love to take them on hikes or just walks around the neighborhood. We also do a lot of DIY home improvement projects on weekends. I am also the President of a nonprofit that helps single parents. I love giving back to my community in any way I can.
Previous Featured Alumni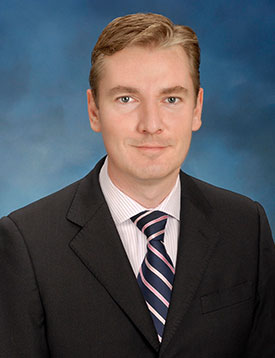 Education
Doctor in Business Administration from UIW School of Professional Studies (USA)
M.S. in Business Administration from Nyenrode Business School (NL)
B.S. in Information Engineering from Hogeschool Zuyd (NL)
Q and A
Tell us about your background.
I am a result-oriented professional with 14 years of international experience in strategy consulting and business transformation. My skills are in delivering creative, client-oriented solutions that translate into lasting competitive advantage. I am passionate about people, quantitative research and complex problem solving. I am also multi-lingual with strong command over Dutch, English, German, and French languages. I've been recognized for my performance in outstanding change leadership, value creation and people development.
What are some of your hobbies and interests?
My hobbies are mostly related to music. I love going to music festivals, playing guitar in my band (nothing beats doing what you love live on stage!), sound engineering and recording, and tinkering with guitar equipment and electronics.
What are your currently reading or what is your favorite quote?
I am currently reading Skin in the Game by Nassim Nicholas Taleb. My favorite quote is "Success consists of going from failure to failure without loss of enthusiasm" by Winston Churchill.
Are you involved in any organizations or associations? Tell us about how you are involved.
I am an Advisory board member of an international Fintech investment firm, as well as a mentor and coach at an Amsterdam based accelerator/incubator for entrepreneurs and startup companies.
Why did you choose to pursue the DBA at UIW?
I was ready for a new intellectual challenge. Coincidentally, my employer launched a very generous reimbursement arrangement for educational expenses at the same time the DBA program started at UIW. The circumstances were just right and the University had a good reputation, so I went for it. It was a bit of an impulse decision really, but I never had any regrets.
Tell us about one of your favorite experiences as a SPS student. Did it involve a faculty member or a class project?
Conducting a 2.5-hour overseas conference call with a few of my classmates while sitting alone in a dark dining hall of a 150-year-old hotel in Cullinan, South Africa in the middle of the night. We were finalizing a presentation and recording voice-overs for a case assignment that was due the next day. We had been branding our case work with Francis Quarles' Midnight Oil rhyme for a while and we sure lived up to it that night! It was tough at the time, but I have fond memories of it now, especially since the hard work was rewarded with top marks.
How did you juggle life and school at the same time
Carmen, my wife and the mother of my two young kids (1 and 3 at the time), said that she would support me through the DBA program as long as I would complete it in the shortest possible amount of time, so I did. While three courses per semester for five straight semesters (including research & dissertation) required some serious discipline from my part, she is the one who made it all possible. On the dedication page of my dissertation it aptly reads, "Carmen, love of my life, thank you for your endless support, patience, inspiration, encouragement and sacrifice. This would be my present to you, if it weren't your gift to me."
What advice would you give prospective and current SPS students?
Get to know your classmates and be a team player. While you could technically complete the program all by yourself, you'll have a much richer experience tackling the case work in groups.
Identify students that run at your pace and team up with them. I was very fortunate to be in study groups with the same 3-5 people a number of times and we became a well-oiled case assignment machine.
When putting together your curriculum, pay attention to the order of the courses. Some lay the groundwork for others or give you a head start if you take them early on, such as the Writing for Publication course.
While the online/hybrid programs are very well organized, join classes in person as often as you can. I found most of them to be very interactive and you'll have both richer discussions and more opportunity for social engagements.
What are your 2020 goals?
I am not a goal-oriented person. Like a surfer, I try to get on a good wave and stay on it as long as it propels me forward or until a better wave comes along. This opportunity-focused mindset led to a rather messy but adventurous journey in life and I'm very happy with where that got me. I've been flirting with the idea to combine teaching at a university with freelance consulting work and the doctorate degree I earned at the UIW School of Professional Studies is a critical enabler of that scenario. All it takes now is for the right wave to come by…
---
Pictured above: Joren Scharn playing guitar at a charity event in Helotes, Texas, the last gig he did in the US. In front of him is his biggest fan and 3 year old daughter, Rachel.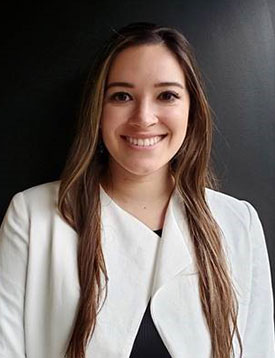 Education
2012, B.A., Political Science
2017, M.S., Organizational Development and Leadership
Q and A
Note: The Q and A portion was transcribed from a video.
Tell us about your background.
Initially, I wanted to pursue government and politics but having a liberal arts degree did not help me stand out to employers in those fields. Therefore, I decided to earn a master's degree and I knew that I wanted to work in some form of government. I chose to pursue the Master of Science in Organizational Development and Leadership (MSODL) degree because I believe so many businesses, including government, require employees to be able to look at the organization as a whole. The MSODL truly helped me stand out in the City of Dallas, where I'm currently located and employed. I started at the Mayor City Council Office as a Policy Analyst and was quickly promoted to the City Manager's Office where they build on strategic initiatives in Dallas. I'm an extension of the Assistant City Manager for the City of Dallas and assist with all projects involved with Police, Fire, Office of Emergency Management and Detention Services departments.
Why did you choose your major?
Many of my colleagues have a Master of Public Administration degree, so I thought that the organizational development degree will help me stand out among a large city with roughly 13,000 city employees. As one of the largest cities in Texas, the City of Dallas needed someone with skill sets that allow them to understand the direction an organization needs to grow and how to improve its structure. I've been involved in all types of city-based strategic initiatives whether or not it is something that the Mayor's office wants to take on. With 14 districts in Dallas, I have been able to assist with connecting bits and pieces from all areas of the city.
How did you juggle life and school at the same time?
I had a full-time job during grad school, which required sacrifice and due diligence on my part. I wanted to finish this program and I wanted to do it well since I thought I did not fully meet my potential with my undergraduate degree. I wasn't too happy with my GPA before grad school, so moving forward with a master's degree was a high priority for me. I studied during weekends and minimized going out as best I could. I had to juggle work and sometimes go into the office an hour early and then prepare to travel to one of my classes. Luckily, my employers have been very flexible and they do want their employees to continue their education, so I haven't had any struggles.
What advice would you give prospective and SPS students?
If this is something you want to pursue and you feel like you want to move forward in your career, then going back to school is definitely something that is possible with juggling family, work and classes. It's very doable and I would also recommend to do something that you're very passionate about. It always helps if you want to stay in your current career path or move toward something different, but if you feel like communication is your strong point, then take classes and pursue what you're passionate about because it will pay off in the long run.
What are some of your hobbies and interests? 
I like biking a lot on various trails. Currently, most of my time is spent with a group in Dallas called the Mayor Star Council and it's a young professional group from different sectors of government between 25-40 years of age. It's a year-long program focused on connecting and serving different parts of Dallas as an extension of the mayor's office. Projects ranging from transportation to the arts are taking up my time through volunteer work while connecting with different professionals around the city.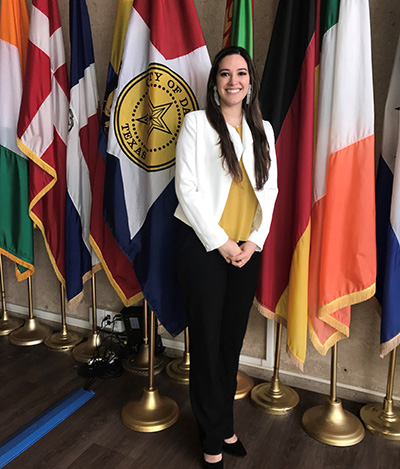 How have you used the mission of UIW in your workplace?
UIW's community service requirement has really helped me in my career because so much volunteer work is needed in the City of Dallas. Dallas's history is unique but has a high segregation problem. Currently we are actively trying to bring those segregated parts of the city together. UIW has helped me in fulfilling that mission to continue throughout my career.
Do you have a favorite quote? What are some of your future goals?
My favorite quote is from Dolly Parton since I'm a huge country fan and was born in Kentucky. It is "Find out who you are and do it on purpose." I think many people are trying to figure out if they took the right direction or if they need to go somewhere else. I believe if you go towards something that is your passion and your mission in life, then you're going to get to the point where you need to be. My future goal is to transition to San Antonio since it's my hometown and where my family reside. I am working on gaining experience in Dallas and will hopefully work either for the City of San Antonio or other type of government position in the future.
UIW in the family.
My boyfriend's name is Aaron Moe and he received a Bachelor of Arts in Administration from the School of Professional Studies. He had been working in a call center for a long time and didn't get to his finish his undergraduate degree. He went to a couple of community colleges in San Antonio and then went back to school at UTSA but kept stopping out due to work. Finally, he found out that UIW has a great program for working adults and decided to try out night classes so he could continue working during the day. His passion was always in history, so when I moved up to Dallas, he started looking at history-related positions in Dallas and applied to the George W. Bush Museum at SMU. Now he is the manager of guest services there so they were able to use his data work experience on top of knowing that he is passionate about history. This was a good starting job into the history field even having an undergraduate degree in administration. He has found that many businesses and organizations seek employees who have skills in data and communications.
---
Pictured above: Victoria Cruz standing in front of flags in Dallas City Hall.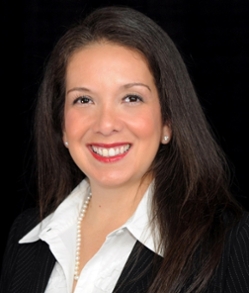 Bio
Jessica was born and raised in Corpus Christi, Texas. She received her Associates Degree from Del Mar College and her Bachelor's and Master's degrees from UIW's School of Professional Studies (formerly ADCaP) in Corpus Christi. She served on the UIW Alumni Association Board of Directors 2015-2018 and was awarded the 2015 UIW Alumna of Distinction for Service in Mission Award.
Jessica is the Owner/Principle Communications Strategist and Certified Executive Coach at JDB Public Relations. She is a graduate Leadership Texas (Leadership Women), Leadership Corpus Christi (United Corpus Christi Chamber of Commerce) and Leadership San Antonio (San Antonio Hispanic Chamber of Commerce). She personifies the Incarnate Word Mission on a daily basis and frequently travels to serve on missionary trips, including Mexico, Nicaragua and her favorite - Ukraine.
Jessica is currently studying Russian to better engage with the people of Ukraine. She enjoys spending her time with her husband, daughters, and her cats. Her favorite hobby is managing her somewhat-famous cat's Instagram account @JuniorPopCat
Education
2005, B.A., Psychology of Organizational Development
2006, M.A.A., Organizational Development
Q and A
Why did you choose to pursue your degree at UIW? Why The School of Professional Studies
SPS was relatively new when I started the program, it was only in its first few years in Corpus Christi. After I graduated with my Associates Degree from Del Mar College, I was searching for a program that would accommodate my work schedule and my family's schedule. SPS provided me with an opportunity to complete my undergraduate degree without compromising my work or family time, and it allowed me to complete my degree within two years as the courses were accelerated. I was working full-time as the Director of Volunteer Services for Driscoll Children's Hospital and SPS was designed for people just like me - working professionals who wanted to obtain their degree.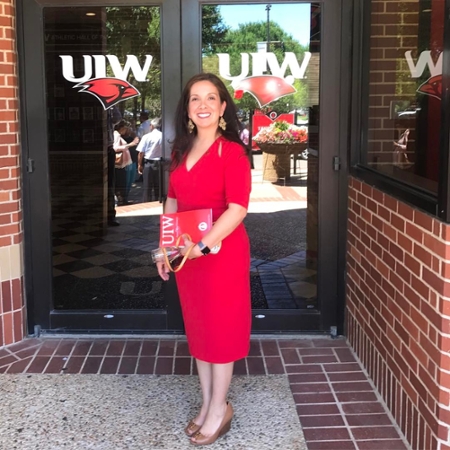 My fellow classmates were all professionals and were working full-time, and they too were seeking the same experience I was searching for in an undergraduate program – flexibility, opportunity and career advancement through higher education. I loved my experience at UIW's satellite campus in Corpus Christi and the experience I had on the main campus for my graduation and now my volunteer service. I created a bond with my classmates, UIW staff and with my professors, and made lifelong connections and meaningful relationships.
How did you juggle school, work, family etc?
I was able to manage a healthy work/life balance through SPS because my classes were offered in the evenings and at an accelerated pace. SPS is for serious students who are serious about earning their degree. Like everything else, I had to budget and prioritize my time after work to manage my family and my studies. Thankfully, I received support from my family and friends. If I had a major project due or an exam, my parents and my husband took on a bigger load with the kids. In the end, going to school, working fulltime and raising a family developed me into the person I am today - I have a "Bring It On!" philosophy.
What advice would you give to a prospect/new student on how to make the most of the program?
As a student in a professional studies program like SPS, I'd advise to make connections with your classmates and your instructors. Embrace every challenge and stretch yourself. I would also recommend to keep up the routine by pursuing a graduate degree while you are still in the work and study mode after you've completed your undergraduate degree. I was already in a solid routine of balancing work, school and family so I leveraged my "UIW" schedule and went on to complete my Master's degree in 15 months at SPS.
How has your degree helped you in your career?
After graduating with my Bachelor's degree, I was able to apply for the positions I wanted that required a four-year degree. I knew I wanted to work corporate and as I advanced in my education, I was able to narrow down the competition and get the jobs I wanted to grow in my field. Now, I own my public relations firm. I'm proud to have earned both my undergraduate and graduate degrees from the University of the Incarnate Word. Today, I am able to volunteer on campus and serve as a mentor to the current UIW students. My door is always open and I am just a phone call away to any UIW student that needs a mentor or some coaching.
What are your current career goals/plans?
My current career goal is to continue building my communications and executive coaching business by offering my clients the best communications strategies for their brands and executive coaching for their teams.
---
Pictured above: Jessica Davila-Burnett in a red dress standing outside of doors with the UIW logo.