Federal and state governments, and local communities, are in need of IT professionals, but have challenges finding professionals with the required training, certifications and clearances (when required) to fulfill positions.
The School of Professional Studies at the University of the Incarnate Word has selected a uniquely qualified provider to deliver the IT Fundamentals A+ training program in partnership with Career Educational Services (CES).This course will provide the core knowledge needed to secure IT positions and the preferred qualifying credential for technical support and IT operational roles. The course will cover much more than basic computer repair. Students will be prepared to troubleshoot, problem-solve and understand a wide variety of issues ranging from networking and operating systems to mobile devices and security. IT Fundamentals A+ will equip students with the knowledge and ability to connect users to the data they need to do their jobs regardless of the devices being used.
Learning Objectives
Provide students in six weeks with the knowledge and skills to incorporate best practices, hands-on troubleshooting and practical IT skills required in:
Mobile Devices
Networking
Hardware
Visualization and Cloud Computing
Hardware and Network Troubleshooting
Operating Systems
Security
Software Troubleshooting
Operational Procedures
Our team leverages an evolving suite of tools to ensure a collaborative environment among the instructors and students.
Mentors are available to coach and assist students as they transition into new IT positions. Additionally, students will have lifetime access to our digital portal, which is an interactive platform where the students and instructors can collaborate, communicate and share content related to IT.
---
Registration and Cost
To maintain a low teacher-student ratio, seating is limited. We accept 15 to 25 applicants into our program.
For registration inquiries, please email PaCE@uiwtx.edu.
Fall II 2023 Class Dates - Online course
Oct. 28, 2023, to Dec. 9, 2023
Meets on Saturdays from 8 a.m. to 1 p.m.
Course Cost
Prerequisites: General IT knowledge or experience is preferred.

Cost: $2,999 (without computer) or $3,499 (with computer)

Items covered under the tuition rate include:
Tuition and Covered Materials
Relevant Course Books
Online Labs
Study Guides
Administrative Assistance
CompTIA A+ Test Voucher
We can include a new computer for an extra $500. If you are using your own computer, you must have the latest version of Microsoft Office Suite, Windows 10 operating system and access to the internet. Students experience hands-on training taught by skilled and highly experienced instructors, utilizing real-world scenarios relevant to the current network environment. Instructors utilize innovative teaching methods and strategies to improve student engagement, motivation and attainment of knowledge as they seek to obtain certification.
---
CompTIA Authorized Partner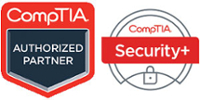 Training partners that participate in the CompTIA Authorized Partner Program follow CompTIA's high standards for IT classes.
Use Official CompTIA Content.
Teach courses using the most current exam objectives for each certification.
Use CompTIA instructors certified in the CompTIA course(s) they teach.
Use CompTIA instructors with the CompTIA CTT+ certification or other industry-approved training certification or equivalent credential.