SPS Student Services Team
The UIW School of Professional Studies Student Services team is here to help you succeed during your educational journey. Our advising team will guide you from the start of your associate, bachelor's, master's and doctoral degree through your graduation. While our student success team will provide guidance on tutoring, career services and outreach for community services.
Meet With an Academic Advisor One-on-One via Zoom
This service is available 1 - 3 p.m., Monday - Friday.
Schedule an appointment Monday - Friday, 8 a.m. - 5 p.m. Complete and submit the Advising Appointment Request form.
For immediate service outside of the Virtual Advising Counter hours, you may contact (210) 702-2402 or send an email to eapadvising@uiwtx.edu.
Meet the Team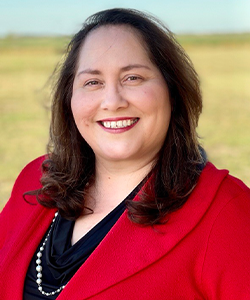 Dr. Jessica Parra
Director of Student Services
Phone: (361) 888-5670
Email: jbparra@uiwtx.edu
Jessica was born in Falfurrias, Texas, but was raised as an Army dependent traveling from El Paso to Germany before finally reaching Corpus Christi, Texas. She graduated from Texas A&M Corpus Christi with her bachelor's in communications and master's in public administration. After which she received her DBA through the School of Professional Studies. Her career as an administrator in higher education began 22 years ago working with military and adult learners.
For me, at UIW, the WORD is Support. At the University of the Incarnate Word, supporting each other is a fundamental form of service. Having been an adult learner, raising a family and working full time, I understand the struggle of making education a priority. Often decisions about life come before the decision to sit down and study. It is why I advocate constantly for professional learners in higher education. Whether it is the struggle of family life, the burden of a full-time job or the difficulty in understanding the information in your courses, UIW provides many avenues to support the professional learner. Every student is an opportunity for us to provide the support we valued as we were students going through college. Give us the opportunity to support you through your educational endeavors and allow us to welcome you to our Nest!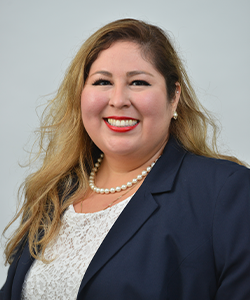 Dr. Tina Siller
Associate Director of Advising and Tutoring Services
Phone: (210) 283-6419
Email: tsiller@uiwtx.edu
Dr. Tina Siller is from San Antonio, Texas, and has over 20 years of experience in education. Dr. Siller earned her Ph.D. in Education specializing in Organizational Leadership and Adult Education from the University of the Incarnate Word. She is experienced in student services, academic affairs, alumni outreach, strategic enrollment management and data quality. Dr. Siller is a strong proponent for excellence in higher education and community standards. One of her goals is contributing to the education to workforce pipeline.
For me, at UIW, the WORD is Fortitude. This important trait represents the ability to take your knowledge and experience and harness it into something meaningful, impactful and lasting. Pursuing a degree requires a level of sacrifice, endurance and mental toughness to achieve a set goal. The ability to have a vision of where you want to be, set a goal, work toward it, and achieve it is very powerful. My calling, and that of UIW faculty and staff, is to serve our students in a manner that helps them navigate their academic journey and achieve their goals.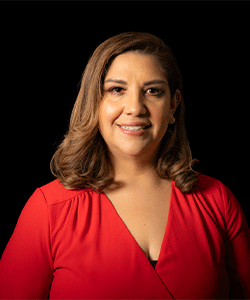 Valerie Vargas
Senior Advisor | DBA and Graduate Students
Phone: (210) 805-3043
Email: vjramos@uiwtx.edu
Valerie received her Bachelor of Arts in Human Resources from the University of the Incarnate Word, as well as a Master of Arts in Administration, and a certificate in religious studies. She has been advising for the School of Professional Studies for over 10 years. She believes education should be available to all who seek it, no matter their age. Valerie is a wife and a mother of four who enjoys spending time with family and friends.
For me, at UIW, the WORD is Understanding. I have been part of the Incarnate Word family since 2005 when I first began my undergraduate degree at the age of 30. I was a nontraditional student with a full-time job and a family while attending classes on the Broadway campus. I transferred to the School of Professional Studies to complete my degree as the flexibility fit like a glove for someone like me. I found myself among peers who understood the struggles of returning to school with personal and professional responsibilities. I found that same understanding in the faculty and staff, giving me a sense of belonging and acceptance. In fact, I loved the understanding environment so much that I became part of the staff in 2009 and have been here ever since. I understand where you are because I've been there. We are here for you and want to see you succeed. I want you to experience the same joy I did when I walked the stage with my bachelor's and master's degrees. You can do this and we will all be here to support you through your journey. You are a part of the UIW family forever!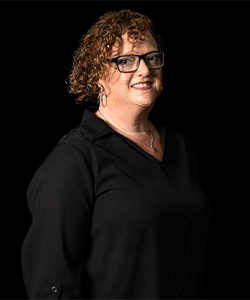 Christina Rollison
Academic Advisor II
Phone: (210) 805-3080
Email: rollison@uiwtx.edu
Christina Rollison is from San Antonio, Texas, and has been part of the Incarnate Word family since high school, graduating from Incarnate Word High School and then earning a Bachelor of Fine Arts in Photography at the Broadway campus in 2015, and finally a Master of Arts in Applied Administration with the School of Professional Studies. She works as an artist outside of the office in a variety of mediums. Christina hopes to provide students support as they pursue their passion and goals.
For me, at UIW, the WORD is Community. I have been part of the Incarnate Word family since high school. When I returned as adult learner to the Broadway campus, I was apprehensive about the type of experience it would be. However, quickly I was again part of a community. Fellow students of all ages, staff, instructors, advisors and so many more filled my time as a student and made the experience amazing. In my role, I hope to share that sense of community with those that I interact with. Community is part of why we welcome all Cardinals to the Nest!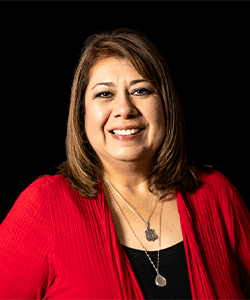 Cynthia Garcia
Academic Advisor I
Phone: (210) 829-3889
Email: cgarcia8@uiwtx.edu
Born and raised in San Antonio, Cynthia is an Incarnate Word High School Alumna Class of '83. She then graduated with her Bachelor of Arts in Administration in 2013 and finally her Master of Arts in Administration in Applied Administration in 2019 from the University of the Incarnate Word. She has worked with students for more than eight years through the Rosenberg School of Optometry and School of Professional Studies. Cynthia has two sons, Colton, who graduated from UIW in 2016 and is an SAPD officer, and Michael, who is a junior at UIW majoring in Cyber Security. She loves spending time with her family fishing in Rockport. Cynthia believes in not waiting until tomorrow to do what you can do today and that education will open doors for a prosperous future.
For me, at UIW, the WORD is Thrive. When I applied to the School of Professional Studies to pursue my education, I knew it was the right decision for me. During my eight years at UIW, I was able to juggle family life, work life and college life to successfully graduate with both a bachelor's degree and a master's degree. Getting an excellent education is the first step to a successful career. I love being part of the UIW Cardinal Community and helping students achieve their dreams. Here at the School of Professional Studies, we will help you thrive in our Nest and guide you along the way through graduation.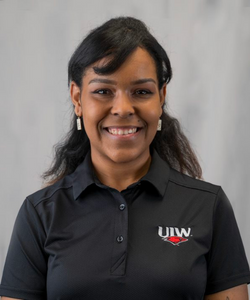 Tiara Daniels
Academic Advisor I
Phone: (210) 829-2769
Email: tmdaniel@uiwtx.edu
Born and raised in Los Angeles, California, Tiara graduated with her Master of Science in Criminal Justice from the University of Southern California (Go Trojans!). Tiara loves spending time with her family and friends, creating art and drinking lots of coffee!
For me, at UIW, the WORD is Resilience. I understand the journey toward higher education is not singular. While obstacles may cross your path, you should never feel discouraged from achieving your goals. Instead, stand tall in the face of adversity, and you will never fail. I firmly believe in resilience and overcoming the many hardships that cross my path. In turn, I would like to ingrain this ideology among my students and help them succeed in their endeavors. Go Cards!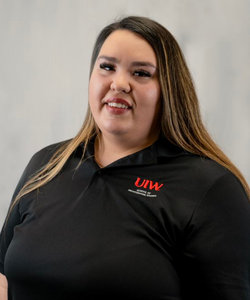 Lorynn Salinas
Academic Advisor I
Phone: (210) 829-2767
Email: lesalin2@uiwtx.edu
Lorynn Salinas was born and raised in Laredo, Texas. She received her Associate of Arts Degree in General Studies from Laredo College, a Bachelor of Arts Degree in Psychology from Texas A&M International University and is currently completing her Master of Arts Degree in Administration at the University of the Incarnate Word. She enjoys working with students and bringing them clarity while on their learning journey.
For me, at UIW, the WORD is Empathy. I believe that the most comforting attribute any academic advisor can attain is empathy. Being an individual who strives for others to do their best, while feeling heard and cared about, really comes into play when advising students. While a student is reaching their goals in their college career, it is important to act as a part of their support system to create a more effective learning environment. Implementing empathy in students gives them a feeling of hope and feeling understood. Doing this for students will create a domino effect and they will pass this empathy on to their fellow peers. This creates a more supportive environment, one student at a time.
Kathy Anderson
Academic Advisor I
Phone: (210) 829-2766
Email: kkanders@uiwtx.edu
Born and raised in Chicago, Kathy has an Associate of Science Degree in Accounting, a Bachelor of Arts in Liberal Arts, and a Master of Science in Human Resources Management and Development. She has over 15 years of experience working in higher education. Being a nontraditional student and working with excellent advisors and counselors gave her the love and passion to give back to students the way others gave to her.
For me, at UIW, the WORD is Encouragement. A quote by C.S. Lewis reads, in part, "You are never too old to set another goal or to dream a new dream." That is what I want to do — encourage you to set goals and dream." I have had many naysayers but I have had many more who encouraged me, even when I did not know they were doing it. Making the decision to go to school or go back to school is not one to be taken lightly and it gets hard. However, be encouraged that pushing on is worth it in the end. I will encourage my students till the end, when they receive that degree and proclaim, "I had a goal, I had a dream, and I MADE IT!"
Nick Flores
Academic Advisor I 
Phone: (210) 805-3602
Email: naflore2@uiwtx.edu
Nicholas (Nick) Flores was born in Corpus Christi, Texas, and was raised in North Carolina and Virginia for most of his life. Coming from a military family, Nick has spent time in places such as Japan, Puerto Rico and even Alaska. He received his Bachelor of Science in Exercise Science-Fitness and Performance from Liberty University where he is finishing his Master of Science in Exercise Science. He has over four years of experience as an Admissions Counselor and Advisor for online programs. Nick enjoys providing guidance and clarity to his students. In his spare time, he enjoys hiking and backpacking in the great outdoors.
For me, at UIW, the WORD is Responsibility. We are all charged with the task of being a good steward of our time, talents and abilities. Knowing what is within my control has been a lifelong lesson that came from many years of being a student and working within higher education. Doing my best to provide the best is the goal and being responsible for my efforts to assist students in achieving their goals is why I chose to work in higher education. I set out to empower my students to take charge of their work, efforts and successes. I will do my best to do my part in this journey so that you can do your best.
Mark Cadenas
Academic Advisor I
Phone: (210) 805-3083
Email: macarde5@uiwtx.edu
Mark was raised in San Antonio, Texas. As a first-generation student, he completed his Bachelor of Arts in Psychology from Texas State University. He found his passion and experience in Higher Education at The University of Texas at San Antonio while completing a Master's in Higher Education Administration. His passion continues to aid first-generation and other non-traditional students to succeed in their higher education journey. In his free time, he enjoys going to soccer games, movies and hanging out with his friends and dog.  
For me, at UIW, the WORD is Service. We are all here on this earth together and we should always help each other whenever we can. As professionals, we serve the students. As humans, we should always give back to our community because it truly takes a village. There are days that we do not have the strength, but service can be a small act of kindness, such as a smile, a hug or a thank you. These acts of kindness have a greater impact than we know. Service is not forced or pressured, but the willingness to give from the heart and want to truly make a difference. If everyone can be of service, our world can truly flourish.