Personal Trainer Certification
The School of Professional Studies at the University of the Incarnate Word selects uniquely-qualified providers to deliver exciting opportunities for those interested in beginning a new career. We have partnered with World Instructor Training Schools (W.I.T.S.) to offer interested students the Personal Trainer Certification program. This program is designed to fit the busy schedules of students with career, life and family obligations. This challenging course is for candidates wanting LIVE instruction with in-depth, hands-on practical labs to master the career skills and knowledge.
Become a Certified Personal Trainer with W.I.T.S.
Registration
Spring 2023 Session Dates
Feb. 11 to March 18, 2023 (Open for Registration)
*BYE Study Weekend on Feb. 25, 2023 (new mid-course study week)
National Exam Date: March 25, 2023 (written exam: 9 a.m. - 11 a.m. and practical exam: 12 - 5 p.m.)
Hybrid Online class (5 weeks of virtual lectures and in-person skills labs at Gold's Gym (TBD)
Program Cost
The total program cost is $850. This cost includes fees for practicum at the health club and does not include the required textbook.
Textbook
The textbook is required and is available in an e-book format. Please note that the textbook cost is not included in the program fee. Call (888) 330-9487 to order the textbook to start your reading early.
Title: Fitness Professional's Handbook - 7th Edition with Web Resources
Hardback ISBN-13: 9781492523376, eBook ISBN-13: 9781492535935
A Fitness Certification is The Way of the Future!
Watch a quick video about the W.I.T.S. Personal Trainer Certification here.
---
About W.I.T.S.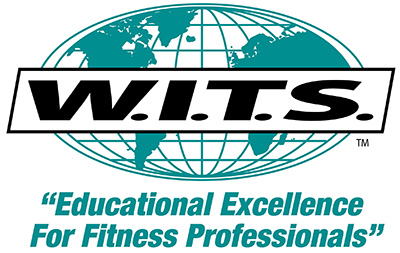 W.I.T.S. is an approved CEU provider for the following organizations; the American Occupational Therapy Association (AOTA), National Certification Board for Therapeutic Massage and Bodywork (NCBTMB), the International Association of Continuing Education and Training (IACET) and the certification test for the GI Bill®. The American Council on Education (ACE) has also recommended 3 undergraduate academic credits for this course. For more information on receiving ACE credit, see the OPD SHRM Cert. ACE Credit-Procedure.