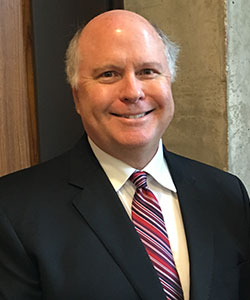 Mark S. Teachout is a Professor in the School of Professional Studies at the University of the Incarnate Word, San Antonio, TX. He has taught at both the undergraduate and graduate levels in the areas of Management, International Management, Human Resources Management, Organizational Behavior, Organizational Development, Organizational Change, Organizational Consulting and Business Statistics.
PhD, MS, Industrial/Organizational Psychology, Old Dominion University
Bachelor of Arts in Psychology, State University of New York at Albany
Dr. Teachout has over 90 publications, including books, book chapters, articles, and technical reports and delivered over 140 professional and invited presentations in the USA and internationally, on these and other topics. He earned his Ph.D. in Industrial/Organizational Psychology from Old Dominion University. Among his many professional affiliations and accomplishments, he served on the International Board of Standards for Training, Performance and Instruction (IBSTPI). In addition, he was listed as one of the most published authors in the 1990's for top tier journals in his field. Finally, he has taught and conducted research internationally, at John Cabot University, Rome, at the European Study Center in Heidelberg, and at IMC University of Applied Sciences, Krems, Austria, where he was awarded the Fulbright U.S. Scholar Grant.
Earlier in life, Dr. Teachout was the Assistant Vice President of Learning and Performance Solutions at USAA, and a Senior Scientist at the USAF Research Lab where he received the Scientific Achievement Award for outstanding research. He is an HR, training and OD & Leadership consultant, with 30+ years of combined experience in research & development, Fortune 200, academic and consulting settings. He has assisted private sector, public sector, government, military, and non-profit organizations in organizational change & culture, strategic planning, training, leadership development, and program evaluation.
Teachout, M.S., Ree, M.J. & Carretta, T.R. (2018). Ability Testing. In SAGE Encyclopedia of Education.
Carretta, T.R., Ree, M.J., & Teachout, M.S. (2016) Training Affects Variability in Training Performance both Within and Across Jobs. International Journal of Selection and Assessment, 24 (1): 71-76.
Ree, M.J, Carretta, T.R., & Teachout, M.S. (2015). Pervasiveness of Dominant General Factors in Organizational Measurement. Industrial and Organizational Psychology: Perspectives on Science and Practice. 8, 409-427.
Carretta, T.R., Teachout, M.S., Ree, M.J., Barto, E., & King, R. (2014). Consistency of Cognitive Ability, Personality and Training Performance in Undergraduate Pilot Training. International Journal of Aviation Psychology, 24:4, 247-264.
Ree, M.J., Teachout, M.S., & Carretta, T.R. (2013). Against All Evidence: General and Specific Ability in HR Management. In Svantek, D.J. and Mahoney, K. T. (Eds.), Received Wisdom, Kernels of Truth, and Boundary Conditions in Organizational Studies. Information Age Publishing, Inc, Charlotte, NC.
Teachout, M.S. & Vequist, IV, D.G. (2010). Special Issue: Medical Tourism (Guest Editors). International Journal of Behavioural and Healthcare Research. Vol. 2, No. 1., Inderscience Enterprises Ltd.