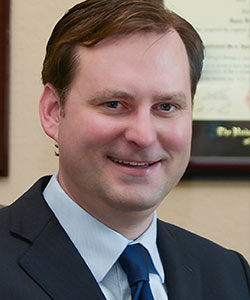 Dr. Ryan Lunsford joined the University of the Incarnate Word in 2010 and currently serves as Professor of Management and Chair of the Doctor of Business Administration. Professor Lunsford received his bachelor's and MBA degrees from the Texas A&M University System. He continued his graduate training in Dallas where he earned two additional master's degrees building upon his international graduate university studies at the University of London and the London School of Economics. In 2006, having completed his dissertation examining the marketing of home education, he earned the Doctor of Philosophy in Management.
Bachelor of Science in Marketing, Texas A&M University
Master of Business Administration, Texas A&M University
Master of Science in Management, University of Texas at Dallas
Master of Arts in International Management, University of Texas at Dallas
Doctor of Philosophy in Management, Northcentral University
Professor Lunsford teaches a variety of undergraduate, graduate, and executive courses both online and on-ground. Dr. Lunsford's favorite classes to teach are the doctoral publication and presentation course and business ethics. 
Previously, Dr. Lunsford was Dean at the Keller School of Graduate Management in Phoenix, Arizona and Assistant Professor of Marketing and Founding Director of the Executive MBA Program at the Ken Blanchard College of Business at Grand Canyon University.
In addition to serving as the Faculty Advisor for the Delta Mu Delta Honor Society, he is co-editor for 15 business textbooks for McGraw-Hill, Cengage, and Prentice Hall, and has published a number of peer-reviewed case studies.
Prior to academia, Professor Lunsford served a Dallas/Fort Worth non-profit educational corporation for five years as Director of Strategic Management.