Personal Trainer Certification
The School of Professional Studies at the University of the Incarnate Word selects uniquely-qualified providers to deliver exciting opportunities for those interested in beginning a new career. We have partnered with World Instructor Training Schools (W.I.T.S.) to offer interested students the Personal Trainer Certification program. This program is designed to fit the busy schedules of students with career, life and family obligations. This challenging course is for candidates wanting LIVE instruction with in-depth, hands-on practical labs to master the career skills and knowledge.
Fitness Certification is The Way of the Future!
Watch a quick video about the W.I.T.S. Personal Trainer Certification here.
Program Highlights
Qualified degreed fitness school instructors
15 hours of lecture that includes key topics in areas such as biomechanics, exercise physiology, fitness testing, equipment usage and health assessment
15 hours of hands-on practical training labs with role play assessing clients, programming, performing proper exercises, presentation skills and more
Taught in six weeks for better retention and skill competency
Show a current CPR/AED card to demonstrate your emergency readiness.
Free web-based student study page
Test vouchers included for the W.I.T.S. Certification Exam
Lifetime employment assistance
Work right after passing the exams with a Level 1 Certified Personal Trainer
Optional Bonus – Get a Level 2 Certified Personal Trainer by completing an employer mentored 30-hour internship.
Learning Outcomes
Understand and describe basic anatomy, kinesiology and exercise physiology.
Assess an individual's level of fitness using ACSM guidelines.
Design and customize exercise programs.
Demonstrate proper execution of resistance, cardiorespiratory and flexibility exercises.
Identify and demonstrate at least one strength exercise for every major muscle group.
Explain ACSM and AHA recommendations for cardiovascular exercise.
Certification
Level 1
Nationally Certified Personal Trainer: For candidates who are prepared to sit for the written and practical exam only.
Level 2
Nationally Certified Personal Trainer: Successfully complete your Level 1 exams and finish the 30 hour internship.
Program Requirements
Must be at least 18 years of age
Graduation from high school or a General Education Development (GED) Certificate
CPR/AED is needed to sit for the exams
Registration
Class Dates
Spring 2022 Session
Hybrid Online class (5 weeks virtual lectures and in-person skills labs at Gold's Gym (TBD)
Feb. 12, 2022 to March 12, 2022 (Open for registration)
*BYE Study weekend on March 19, 2022
**National Exam date on March 26, 2022
Program Cost
The total program cost is $850. This cost includes fees for practicum at the health club and does not include the required textbook.
Textbook
The textbook is required and is available in an e-book format. Please note that the textbook cost is not included in the program fee. Call (888) 330-9487 to order the textbook to start your reading early.
Title: Fitness Professional's Handbook - 7th Edition with Web Resources
Hardback ISBN-13: 9781492523376, eBook ISBN-13: 9781492535935
Enroll in the Course Now
---
About W.I.T.S.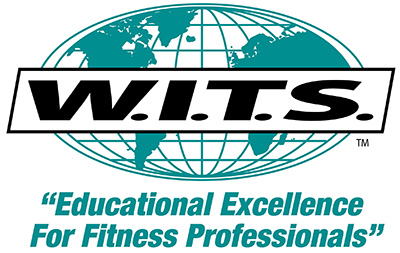 W.I.T.S. is an approved CEU provider for the following organizations; the American Occupational Therapy Association (AOTA), National Certification Board for Therapeutic Massage and Bodywork (NCBTMB), the International Association of Continuing Education and Training (IACET) and the certification test for the GI Bill. The American Council on Education (ACE) has also recommended 3 undergraduate academic credits for this course. For more information on receiving ACE credit, see the OPD SHRM Cert. ACE Credit-Procedure